2022 MAY
May already!?   Wow First of all let me please say thank you to Ratty for being part of my life, We said goodbye to you on Friday and even then you left me with a smile because in oe of the tributes left for you that holidays mentioned to Magaluf where someone hid your clothes and part of the instigator was locked on the balcony and made to sleep on the suitcases.   Well pal, I hope you've forgiven me now, not admitting that it was all my doing.   Sleep well my friend, rest easy and say hi your mum from me.
Now apparently they say as one life is taken from us, another one arrives, well I am super proud and uber delighted to welcome Teddy into our lives our first ever grandson weighing in at 8lb 11oz at 03:27am 30042022, he is a little belter and I am not being bias.   Meg and Max havent had it easy as it was a difficult and trying labour and both are currently being monitored by our super NHS. But welcome to this wonderful place called earth.
Now back to Stroke related news, not only have we just won Best Stroke Patient Support (Mental Health Awards 2022) we have recorded at least 26 referrals in April, 26 families need our support so to me that speaks volumes we do know what we are doing and take it from me, never give up!!  aI say 2 fingers to the term plateau #WeCareBecauseWeveBeenThere   please drop us a line at ContactUs@StrokeInformation.co.uk    Thank You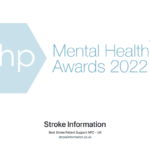 https://www.buzzsprout.com/1086089
UK online and telephone support.