April 2021
Well the month starts off with April fools day so watch out for those prankster out there although I am not sure after the year we have endured there will be too much jovial activity but on the other hand laughter is one of the best medicines available and its FREE.   A few of our group members will be happy with the fact that its FREE so embrace it and use it.
We have all done so incredibly well so far during these uncertain times and I know we are not out of the woods just yet but it is looking a lot brighter out there and things are starting to wake up.  Our peer support group has grown stronger and larger and we have even got a Zoom call with an Indian support group based in India coming up and it fully focuses on that there is a strategy and people available to get you to reach your goals, whatever they are.   JUST REMEMBER YOU ARE NOT ON YOUR OWN.
7th April 2021 sees our 2nd annual celebration of recognising that every stroke survivor deserves support as we are the ones who have lived it and survived the devastation of Stroke.  Please get involved and if you are on twitter please use the #SSD21 and say what has improved or worsened during the pandemic and particular during lockdown so feel free
my take on it is #SSD21 Were still here 🙌🏻 🙌🏻 🙌🏻 💚  keep on trying……
*Breaking News 17th April 2021 12pm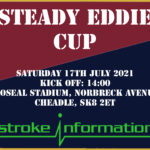 FC Humber United are pleased to announce that they have recently scheduled an
annual pre season fixture with Cheadle Heath Nomads, the pre season matches will be
held with each team hosting the other at alternative home ground locations and this match will be for the "Steady Eddie Cup". Steady Eddie is the mascot of a local charity
StrokeInformation which was setup by former footballer Nick Clarke after his own
severe stroke in September 2012.
Nick shared his thoughts on the charity and the game ahead. "The charity has gone
from strength to strength and is very appreciative for the support that FC Humber United
and Cheadle Heath Nomads have shown. Support is so, so important when you have
been impacted by Stroke and that is the mantra of the charity by offering true peer led
support and their tagline is #WeCareBecauseWeveBeenThere."
"During the lockdown and pandemic everyone has experienced some form of isolation,
well please imagine that all the time, as that is what it's like after your stroke, you don't
really see anyone, no-one rarely pops round for a brew or a chat, effectively making the
stroke survivors feel unworthy, StrokeInformation is reducing that isolation. Although the
charity is based over in Stockport, they will help anyone and anywhere at any age, most
people believe that Strokes only affect those at a certain age, well that's not true and is
quite apt for the charity at the moment as a young mother from Bradford has just
reached out to StrokeInformation after her son has had 3 strokes since September 2020
and he is just 5 years of age!!"
FC Humber United Chairman, Richard Smales comments on this latest link for the club "This is another fantastic link and partnership for us as a club, it's only when you read
about what StrokeInformation offer as support that's when it hits home that a stroke can
affect anyone at any age. With this link between ourselves and Cheadle Heath Nomads
it's more than just a game of football, we can enjoy the annual pre-season fixture
however know that we are also doing our bit to push this extremely important charity at the same time.
It's a big thank you to Marc for making an idea into a reality for all us and Cheadle to
build a strong partnership over the coming years, we are very much looking forward to
the trip across the pennines and to test ourselves against NWCFL opposition too.
Another exciting and important partnership we have added to the club as we continue to
grow and move forwards in the right direction."
Cheadle Heath Nomads Chairman, George Gibbons added; "On behalf of everyone at
Cheadle Heath Nomads, we are delighted and honoured to participate for The Steady
Eddie Cup with our friends from FC Humber United. Nick Clarke and his colleagues
undertake a tremendous amount of valuable work in the community, not only assisting
stroke patients but also their immediate families. Hopefully with the help of both clubs
we can in some way ensure that their amazing work continues. I'm confident that these
annual fixtures will be fiercely contested on the pitch and celebrated with a drink or two
afterwards.
We are looking forward to hosting the inaugural match and meeting new football friends
along the way."
FC Humber United, Director of Football Marc Brown: "When myself, Rich and Mark discussed the fixture we wanted to do something that had potential to be an annual event which would raise awareness of a great charity. Having previously been part of a few fundraising events
for Stroke Information it was an obvious decision. George Gibbons and everyone at
Nomads have shown a great deal of enthusiasm to this exciting partnership. The speed in
which all 3 parties have managed to get everything over the line shows the commitment,
desire and forward thinking everyone is which can only make everyone stronger for it.
The work Nick and his team carry out is priceless and its personally a proud moment to
be able to continue supporting them."
UK online and telephone support.