December 2017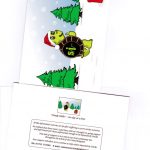 Firstly let US take this opportunity to wish you all the very best for the Festive Season, remember #WeCareBeacauseWeveBeenThere   – so please if there is anything concerning you or just want to talk to someone, drop us an email :  Contactus@strokeinformation.co.uk.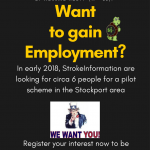 Are you a Stroke survivor??  Looking for employment or even just being involved in something again after the devastating scenario of your Stroke, let us help??   In 2018 we are piloting a project in Stockport where we HOPING to gain employers confidence with a new revolutionary way of getting around that process of filling forms and sending off CV's only for the word STROKE to be highlighted and underlined in RED and ultimately the CV, your CV to be tossed aside and even a Dear John letter would be too much to expect……….. WE WANT TO CHANGE THAT, so if you fancy giving us a chance to help you, we would love to hear from you.
UK online and telephone support.