October 2017
October and the  start of another month, this month is the month of our 1st fundraiser event of the year at Edgeley Park, SK3 9DD, the home of Stockport County.   Tickets available by telephoning Cheshire Conference Events on 0161 2868891 / Stockport County on 01612662700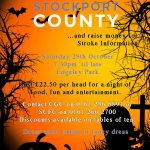 Yes we have been selected as the chosen charity for Stockport County & Cheshire Conference and events and it plans to be a spectacular night with very reasonably priced tickets.  We have Alan Keegan, "the voice of Old Trafford" as MC, ARGH KID (As seen on Granada Tonight recently) and a few other special guests planned including 1 or 2 of the "County" squad showing their support too as they will be playing at Edgeley Park against Kidderminster earlier that afternoon.    Also we would like to say a huge THANK YOU to everyone who nominated StrokeInformation in the recent Vernon Jubilee Fund voting scheme in addition to the Facebook campaign we we managed to achieve 7th overall place ensuring a prize of £538.16 will be received on the presentation night in November 2017.   Thank you to everyone and well done to all the 16 finalists as each was very worthwhile cause.
Don't forget to come along and show your support and have a great entertaining night with a fizz reception courtesy of Parfetts cash & Carry.
UK online and telephone support.